Picking up where Episode II left off, the saga of the Clone Wars will continue through animated shorts premiering this year from the Cartoon Network and Lucasfilm Ltd. Star Wars: Clone Wars will be a series of 20 animated shorts that will air on the Cartoon Network in 2003-2004 between other programming.


Helming this new series is Genndy Tartakovsky (see Three-Minute Epics: A Look at Star Wars: Clone Wars), the acclaimed creator of "Samurai Jack" and "Dexter's Laboratory." The episodic shorts will be two- to three-minutes in length and will air exclusively on Cartoon Network at regularly scheduled times beginning this fall.


The epic Clone Wars dominated the final years of the Galactic Republic, as Jedi-led clone troopers battled against the evil forces of the Separatists. Joining already established Star Wars characters in the series will be several new and ruthless adversaries.


"We are incredibly excited to be working with Lucasfilm in creating an animated story that extends one of the world's most beloved entertainment properties," said Sam Register, senior vice president of development for Cartoon Network. "Cartoon Network's creative team will work hand-in-hand with Lucasfilm to make sure that our common vision for Clone Wars thrills Star Wars fans around the world."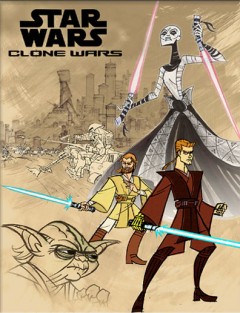 http://www.starwars.com/eu/news/2003/02/news20030220.html