What a shock! I had bets on Kelley and Nimoy.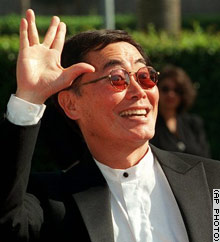 George Takei, who as "Star Trek's" Sulu was part of the Starship Enterprise crew through three television seasons and six movies, has come out as a homosexual in the current issue of Frontiers, a biweekly Los Angeles magazine covering the gay and lesbian community.
Takei told The Associated Press on Thursday that his new onstage role as psychologist Martin Dysart in "Equus," helped inspire him to publicly discuss his sexuality.
Takei described the character as a "very contained but turbulently frustrated man." The play opened Wednesday at the David Henry Hwang Theater in Los Angeles, the same day that Frontiers magazine featured a story on Takei's coming out.