Found this little gem on Google Maps Mania. It's a way of finding "gentlemen's clubs" in the U.S., using the Google Maps API. I suppose if you're wired and horny, then you'll probably find this site useful.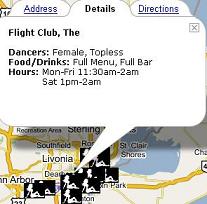 Strip Club Map - Interactive Maps of Strip Clubs in the United States
" If you are new to an area and want to get information about your nearest 'titty bar' or a local spot to enjoy some adult entertainment, stripclubmap.com is for you."