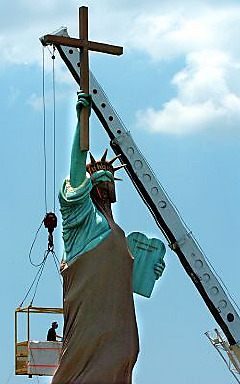 Memphis Commercial Appeal - Memphis' Source for News and Information: Local
As drivers wait for a green light on Winchester Road, they automatically lean their heads forward to view the 72-foot sea-foam-green Statue of Liberation overlooking Hickory Hill.
The towering replica of the Statue of Liberty -- with a few Christian touches -- is being erected in front of the 12,000-member World Overcomers Outreach Ministries Church at Winchester and Kirby Parkway.

Replacing the recognizable torch, Lady Liberty holds a cross.
A beige sheet veils much of the $260,000 statue and will be removed during a Fourth of July ceremony.
Lady Liberty's uncovered eyes already peer down on the community. A tear falls from her right eye representing her concern for America.
Church members said the mixture of the statue and Christian symbols represent "America belonging to God through Jesus Christ."