[In Belgrade] a recent police investigation "into the mysterious shooting of two soldiers has revealed the existence beneath the Serbian capital of a secret communist-era network of tunnels and bunkers that could have served as recent hideouts for some of the world's most-wanted war crimes suspects. The 2-square-mile complex â.. dubbed a 'concrete underground city' by the local media â.. was built deep inside a rocky hill in a residential area of Belgrade in the 1960s on the orders of communist strongman Josip Broz Tito. Until recently its existence was known only to senior military commanders and politicians."
So how big is this concrete underground city?
"Tunnels stretching for hundreds of yards link palaces, bunkers and safe houses. Rooms are separated by steel vault doors 10 feet high and a foot thick. The complex has its own power supply and ventilation."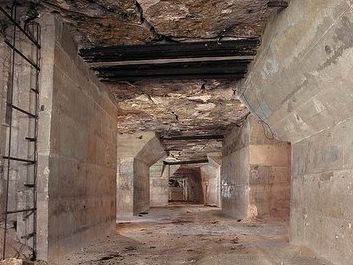 But hundreds of yards? That's nothing ... a secret, 240-acre underground bunker-city has recently come onto the UK housing market.